Paws Savannah has been at our shelter since June of 2017. She is 5 years old and looking for a home! This goofy girl has been at our shelter for too long, hopefully she will find her forever family soon in 2020.
This stong-willed pooch loves to have a good time with her volunteer friends. She always goofs around with them and runs around in our shelter play yards! Occasionally, she will get a good case of the zoomies and run super duper fast! She also loves playing in ball pits and chewing on crunchy toys. Fastest way to her heart? Give Paws a nice toy! After she's worn herself out a bit, she likes to go on car rides around Annapolis and see the sights. Paws always has dibs on riding shotgun, just so you know.
She seems pretty housebroken and keeps her kennel nice and tidy, but a refresher course in potty-training would be beneficial in the home. While most dogs like Milkbones as treats, Paws loves bananas!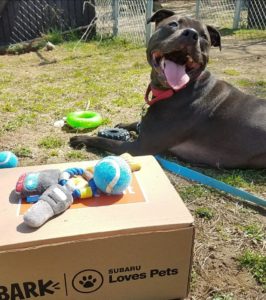 Paws Savannah does have a high prey drive and she is not well socialized with other dogs, so she must be the only animal in the home. Because of her energy level and strength, we recommend she goes to a home with no children. We also recommend she goes to an experienced dog owner only!
Since she has been here nearly 4 years, whoever adopts her will truly be rescuing.  If you are interested in learning more, call the shelter at 410-268-4388 or email adoptions@aacspca.org!
UPDATE: Paws Savannah has been adopted and is loving her home!
Get your tissues ready, because the story we have for you today is a tear-jerker of the best kind!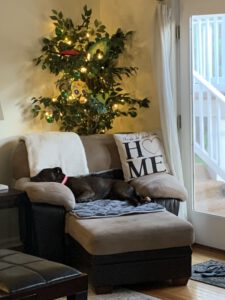 Paws Savannah, affectionately known as "Bunny" by her shelter friends, came to us four years ago. Four. She had her shelter friends who spoiled her and made her feel like a princess. But she was still waiting for her forever family. While some might lose hope after so long, Paws and her pack knew the right people were out there. And she hit the absolute jackpot! Her forever family knew that adopting Paws would be a bit of a process, requiring a lot of frequent visits to the shelter.
In their words "We let them know that we were up for the challenge and so the courting process began. We started slow with visits at the SPCA guided by Paws' very special handler Anne Rose. The visits increased in length and affection as we progressed to in-home visits. So after a long but necessary process, we finally brought paws home to her forever family. We want to thank the SPCA of Anne Arundel County and all her handlers for taking such great care of her, never giving up on her, and having measures in place to help ensure a successful transition. We want to specially think Anne Rose who without her love, devotion, bravery, stubbornness, hope, and faith; Paws wouldn't have been such a sweet and worthwhile cause. God Bless – SPCA of Anne Arundel County. You make a difference!"
We are so excited that, after 4 years, we can finally say: Happy Tails, Paws Savannah!