Paws Savannah has been at our shelter since June of 2017. She is 5 years old and looking for a home! This goofy girl has been at our shelter for too long, hopefully she will find her forever family soon in 2020.
This stong-willed pooch loves to have a good time with her volunteer friends. She always goofs around with them and runs around in our shelter play yards! Occasionally, she will get a good case of the zoomies and run super duper fast! She also loves playing in ball pits and chewing on crunchy toys. Fastest way to her heart? Give Paws a nice toy! After she's worn herself out a bit, she likes to go on car rides around Annapolis and see the sights. Paws always has dibs on riding shotgun, just so you know.
She seems pretty housebroken and keeps her kennel nice and tidy, but a refresher course in potty-training would be beneficial in the home. While most dogs like Milkbones as treats, Paws loves bananas!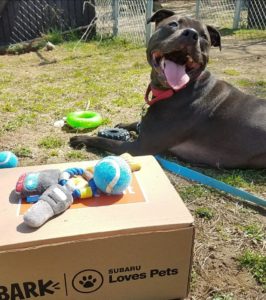 Paws Savannah does have a high prey drive and she is not well socialized with other dogs, so she must be the only animal in the home. Because of her energy level and strength, we recommend she goes to a home with no children. We also recommend she goes to an experienced dog owner only!
Since she has been here nearly 3 years, whoever adopts her will truly be rescuing.  If you are interested in learning more, call the shelter at 410-268-4388 or email adoptions@aacspca.org!