To help support our organization we co-host and host dozens of events annually. Looking to plan or sponsor an event? Please visit our hosting events page. Below is a current list of events – for more details, please select an event from the list.
Facebook Listings
Website Listings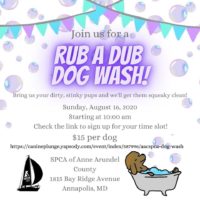 Rub A Dub Dog Wash – 8/16
As part of our #TakethePlungeChallenge, the SPCA of Anne Arundel County wants to do something fun for you! With social distancing and the quarantine, we've had to skip out on many of things we'd normally do – that includes dog bathing!
So bring us your dirty dogs! On August 16, for the low price of $15, we'll get those pups squeaky clean and smelling great. Let us take the hassle away from you. To add to the fun, we may have a few other surprises in store! Appointments are necessary, so sign up below!
Click this link to sign up for your time slot!
Please note, we will still be observing social distancing. We will ask that you stay in your vehicle and sign up for a 15 minute time slot.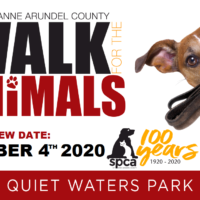 Walk for the Animals – 10/4
When: Sunday  October 4th, 2020
What: This event is one of our shelter's largest fundraisers.
How:
Register online! LINK COMING SOON.
Walk through Quiet Waters Park with your family and friends (2 or 4 legged), at your own pace. (Turn on your Wooftrax app and track your steps!)
If you want to gather pledges off-line, click here to download a pledge form and bring it to the Walk or to the SPCA.
Join a team and raise funds with your friends.
Stroll through Vendor Village and meet the wonderful Veterinary Hospitals, Pet clothing providers, Artisans, Home Remodeling, and many other vendors who love animals just as much as you do!
Head down the hill to see some incredible vehicles at the exclusive Cars & Critters car show. Donate $20 per car you plan to show. Donate $25 or more on the Cars & Critters page and get a stuffed animal!
Now that you've worked up an appetite, swing by the Food Bowl to enjoy some delicious eats!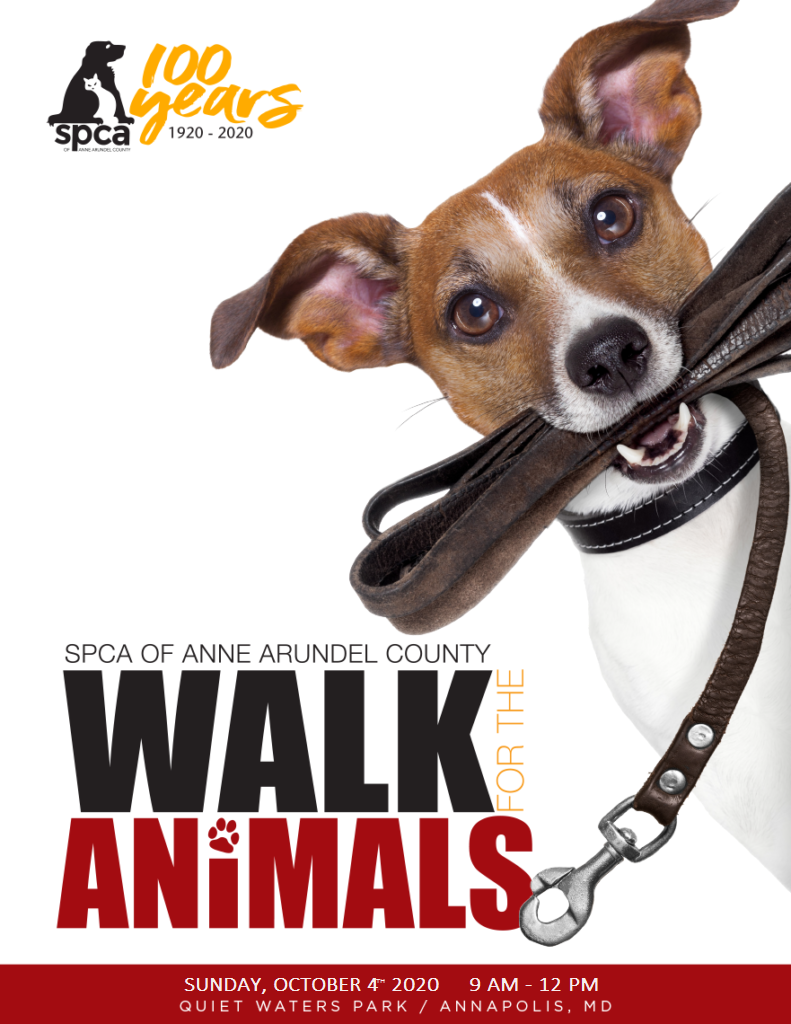 All dogs must be leashed, preferably on a non-retractable leash.
Would you like to sponsor this event or be a vendor? Download our Sponsorship Packet: Sponsor & Vendor Packet
Any questions? Need help? Email walkfortheanimals@aacspca.org.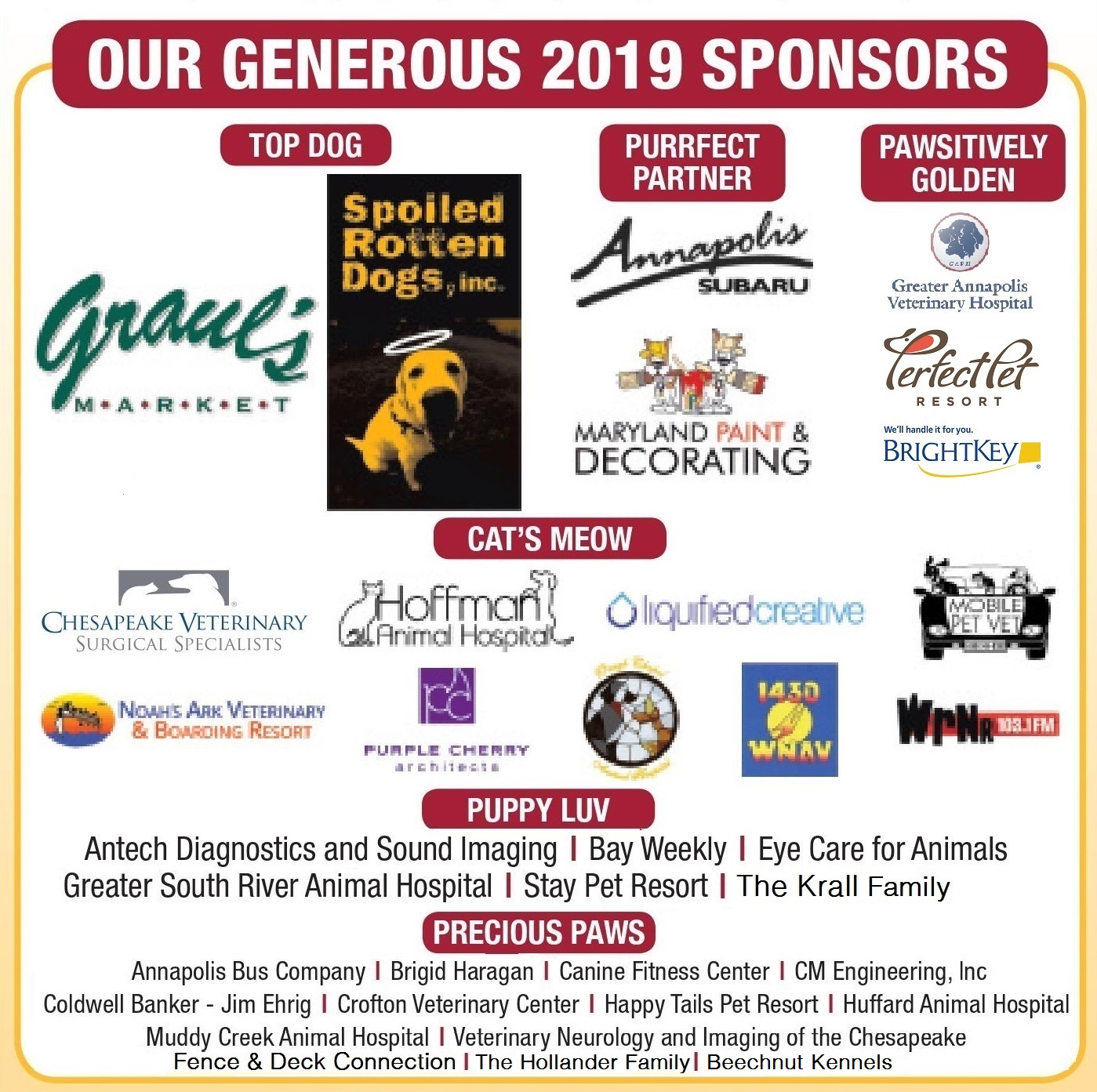 ---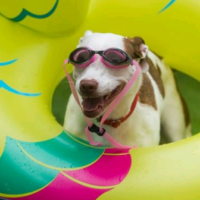 #TakeThePlungeChallenge – Summer 2020

This summer, the SPCA of Anne Arundel County encourages you to #TakeThePlungeChallenge!
Every August, the SPCA of Anne Arundel County hosts the Puppy Plunge at Camp Letts in Edgewater, Maryland. This year, due to the importance of social distancing, our plunge will be going virtual.
It's super fun and easy to participate – all you have to do is take a video or picture of your pet or yourself plunging and post it online with the hashtag #TakeThePlungeChallenge! Plunging could be jumping into a pool, swimming in the ocean, or wading in a kiddie pool! We want to see how you and your pets are celebrating a cool summer. Be sure to post on Facebook, Twitter, and Instagram!
The Puppy Plunge is also one of our shelter's biggest fundraisers, so we encourage all participants to make donation to our shelter! Every dollar helps our shelter and our animal. Did you know a small donation of $25 provides food and care to a shelter dog for a full week? It's easy to donate right on Facebook: #TakeThePlungeChallenge
Additionally, you make a direct donation to our shelter at this link: https://donatenow.networkforgood.org/AACSPCA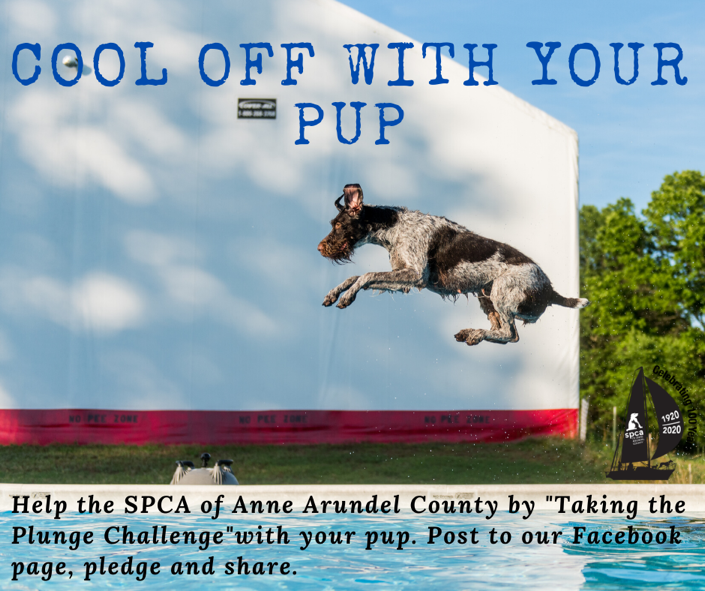 HOW TO PARTICIPATE:
POST: Post a picture or video of your pet plunging on social media with the hashtag
#TakeThePlungeChallenge
. Be sure to also tag the SPCA of Anne Arundel County! Whether it's relaxing in a kiddie pool or swimming in the Severn River, we want to see you and your pet plunging!
PLEDGE: Encourage your friends and family to make a donation to the SPCA of Anne Arundel County in honor of your plunge! As a non-profit animal shelter, we rely on generous donations from the community to keep our shelter running and keep our animals well cared for! Donations can be made directly on this post or on AACSPCA.org.
SHARE: Spread the news far & wide! Let's make
#TakeThePlungeChallenge
go viral on social media. It's not just a good way to help animals in need, but it'll get you and your pet active this summer!
#TakeThePlungeChallenge, our Virtual Puppy Plunge, is proudly sponsored by: