To All,
We adopted Gideon on 12/26/2017, he is a mix ( Bull Mastiff), and we are very happy to report that Gideon has found his "forever home". When Gideon was first introduced to his new home we could tell by his expressions and subdued mannerisms that he was unsure of his new environment, he would keep to himself and wanted to stay on his new bed with his blankets. After a short time Gideon would venture out into the family room and quickly became more comfortable with all the new changes.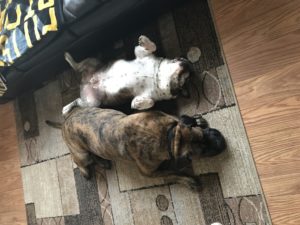 Gideon has shown everyone who has met him that he is extremely intelligent and very gentle, he has already demonstrated his desire to "protect" his "family" as he routinely makes his rounds during the night ensuring the house is secure. Gideon loves to sit on the back deck and survey his "kingdom". Gideon has acclimated well to his new surroundings and has become an important member of the family.
Gideon would like to thank all of your staff who took care of him while he was waiting to find his "home". Thank you all for the great work you do being the voice for all those animals that didn't choose to be in their situation and have had to rely on others to see them through the rough times. I have attached some photos, I hope you enjoy them.
Thank You,
Brad S.
We have many great animals waiting for their happily-ever-after. Why not take a look at our list of adoptable animals or stop by the shelter? If you're not ready to adopt, please share these stories widely and, of course, please consider a small donation to help offset our costs.