This page highlights our current adoptions specials and special programs. Scroll down to see the various options available, including Pets for Patriots, Seniors for Seniors, and Working Cats.
Monthly Special
---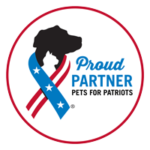 Ongoing Promotions
Pets for Patriots
Did you know? We are part of Pets for Patriots – a program that helps veterans adopt a new pet friend while giving the most overlooked shelter animals hope and a home.
We'll outline some of the program benefits and requirements and provide some relevant links, but if you have questions about the program it's best to contact Pets for Patriots directly.

Eligible Pets
This program is available for animals that meet one (1) of the following criteria:
– Dog or cat, two years or older
– Special needs dog or cat, of any age
– Dog or cat homeless for 6 months or more
– Large dog (40+ pounds at the time of adoption), of any age
Program Benefits
The Pets for Patriots offers a number of benefits beyond the "adoption special" which, for our shelter, is the waived fee for eligible pets. This includes after adopting, the veterinary partners offer a minimum ongoing 10% fee discount for pets adopted through the program. There is also a one-time $150 contribution via e-gift card to a major pet retailer upon eligible pet adoption, to be used for food, medications, supplies and other essentials.
More details: https://petsforpatriots.org/adopt-a-pet/veteran-benefits/
Location Requirements
"Veteran applicants are required to live within 40 driving miles of an existing Pets for Patriots shelter/rescue partner and 15 driving miles of a Pets for Patriots veterinary partner. Individuals who live marginally beyond either requirement are asked not to apply, but to contact us to request a location exception, which are reviewed on a case-by-case basis."
Proof of Service
The program requires proof of service and some limitations apply.
More details: https://petsforpatriots.org/adopt-a-pet/proof-of-service/
To obtain a Pets for Patriots approval letter and learn more about the program, please visit: https://petsforpatriots.org/adopt-a-pet/how-it-works/
Once you receive a Pets for Patriots approval letter, please bring it to the shelter. Our regular adoption process still applies.
---
Seniors for Seniors

The SPCA of Anne Arundel County's Senior for Seniors program will help you select a companion who will fit into your lifestyle and housing situation at a reduced adoption rate.
Research shows that companion animals can improve health and happiness, regardless of age, health, social or even economic status. Why not improve your overall well-being by adopting one of our lovable senior companions!
Benefits of adopting a senior pet:
Senior pets help their owner improve mental and physical health- lower blood pressure/ lower stress/ reduce depression;
Senior pets provide companionship;
Pet owners generally get more exercise and outdoor activity;
Senior pets are often calmer companions and are often already trained.
This program places senior cats and dogs (ages 7 years and older) with senior citizens who are 55yr + of age (standard adoption procedures apply).  The benefits of participating program include:
All pets go home vaccinated, spayed or neutered, and micro-chipped;
All senior pets adoption fee is 50% off;
All adoptions will receive an after adoption personalized phone call to find out how your pet is settling in.
Rediscover the joys of having a cat or dog in your life!  To participate in this program, please contact us at 410-268-4388 ext. 103.
---
Working Cats Program
As an open access shelter, we often get in animals that may not fit into a typical home.  We are currently expanding and looking for other options for these animals.
Did you know that cats are the number one most euthanized animal in shelters? Did you know that many of the cats that are put down are healthy, adoptable cats that can provide valuable services such as rodent control?
All cats come spayed or neutered, vaccinated and microchipped and they are free of charge to approved barn and warehouse owners.
Watch a video about the program here:
If you are interested, please download and complete the working cat application form: Working Cat Application (word) Working-Cat-Application (PDF)
For more information, please contact the SPCA of Anne Arundel County at 410-268-4388 ext. 103!