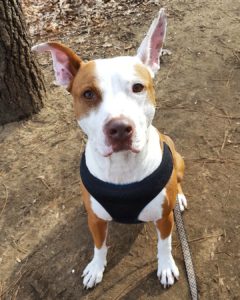 Contract
When adopting a pet from the SPCA of Anne Arundel County (AACSPCA), you must complete and sign an Adoption Contract. Two of the most important requirements you must agree to are:
To take your new pet to a veterinarian for a check-up
To return the adopted pet to the AACSPCA if you are unable keep it.
The adoption process takes two to seven days. The AACSPCA reserves the right to decline any adoption request.
What is included in the adoption fee?
Puppies, dogs, cats and kittens receive health and temperament screening, de-worming medication, age-appropriate vaccinations, a microchip, and have been spayed or neutered
Dogs have been tested for heartworm disease and several tick-borne diseases.
Cats have been tested for feline leukemia and feline AIDS (FIV). Dogs and cats receive one month of pet health insurance.
Rabbits have been spayed or neutered. Male guinea pigs have been neutered.
All adoption fees go towards providing food, shelter, and veterinary care for our animals.
Adoption fees cover only a portion of the costs we incur while caring for the animals at the SPCA.
Adoption Applications
You can download/view our applications for adoption:
We provide a downloadable copy of our adoption applications so that potential adopters can save time by filling one out in advance. You must bring it with you when you come to the shelter.
If you have questions about an animal or it's availability, please call the shelter during regular business hours for the most up to date information.
---
Adoption Hours
| | |
| --- | --- |
| Monday | 11:00 to 4:00 |
| Tuesday | 11:00 to 4:00 |
| Wednesday | 2:00 to 7:00 |
| Thursday | 2:00 to 7:00 |
| Friday | 11:00 to 4:00 |
| Saturday | 11:00 to 4:00 |
| Sunday | 11:00 to 4:00 |
---
Adoption Fees

Animal Type
Cost
Purebred Dogs

180.00

Puppies (6 months and under)

200.00

Mixed Breed Dogs

140.00

Kittens

70.00

Two Kittens Adopted Same Day

120.00

Two Cats Adopted Same Day

85.00

Purebred Cats

85.00

Mixed Breed Cats

45.00

Rabbits

45.00

Ferret

70.00

Guinea Pigs

20.00

Hamsters, Gerbils, Mice

5.00

Parakeet

25.00

Cockatiel

50.00