This summer, the SPCA of Anne Arundel County encourages you to #TakeThePlungeChallenge!
Every August, the SPCA of Anne Arundel County hosts the Puppy Plunge at Camp Letts in Edgewater, Maryland. This year, due to the importance of social distancing, our plunge will be going virtual.
It's super fun and easy to participate – all you have to do is take a video or picture of your pet or yourself plunging and post it online with the hashtag #TakeThePlungeChallenge! Plunging could be jumping into a pool, swimming in the ocean, or wading in a kiddie pool! We want to see how you and your pets are celebrating a cool summer. Be sure to post on Facebook, Twitter, and Instagram!
The Puppy Plunge is also one of our shelter's biggest fundraisers, so we encourage all participants to make donation to our shelter! Every dollar helps our shelter and our animal. Did you know a small donation of $25 provides food and care to a shelter dog for a full week? It's easy to donate right on Facebook: #TakeThePlungeChallenge
Additionally, you make a direct donation to our shelter at this link: https://donatenow.networkforgood.org/AACSPCA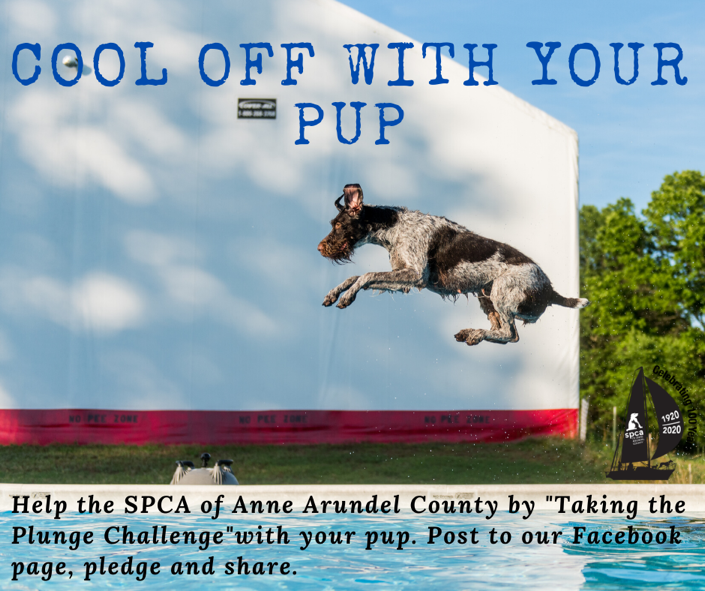 HOW TO PARTICIPATE:
POST: Post a picture or video of your pet plunging on social media with the hashtag
#TakeThePlungeChallenge
. Be sure to also tag the SPCA of Anne Arundel County! Whether it's relaxing in a kiddie pool or swimming in the Severn River, we want to see you and your pet plunging!
PLEDGE: Encourage your friends and family to make a donation to the SPCA of Anne Arundel County in honor of your plunge! As a non-profit animal shelter, we rely on generous donations from the community to keep our shelter running and keep our animals well cared for! Donations can be made directly on this post or on AACSPCA.org.
SHARE: Spread the news far & wide! Let's make
#TakeThePlungeChallenge
go viral on social media. It's not just a good way to help animals in need, but it'll get you and your pet active this summer!
#TakeThePlungeChallenge, our Virtual Puppy Plunge, is proudly sponsored by: